With the flash of a camera, Maureen Feeley and Dave Caramello of Evoke Tintype can open a portal to another time.
Their subjects' eyes gleam like quicksilver, their faces rendered in varying shades of black and white. If not for the 21st century details — a nose ring here, a modern haircut there — it might even be difficult to tell whether these photos were taken in 2023, or 150 years prior.
In their Revere studio, armed with a 1940s' Deardorff camera, Feeley and Caramello are able to capture the magic of tintype, an antiquated form of photography dating back to the Civil War era. The method uses UV-sensitive collodion to create photographs on thin pieces of metal, resulting in a black-and-white image with stunning detail.
"They almost look three-dimensional when you see them, and the way people are photographed, their eyes are almost alive in the photo," Caramello told Boston.com in a recent interview.
The couple came across tintype by pure coincidence after delving into photography during the early days of the pandemic. Feeley stumbled upon a tintype image while parsing through YouTube videos to learn about composition and technique.
"And that was it for me," she recalled. "I was blown away, and I just knew I wanted to learn how to do it, and luckily Dave came along with me and we learned together."
Given how slow the process can be, "I think the sitter gets a little more relaxed, and they let their guard down a little bit," Feeley said. "So people aren't, I think, as nervous when they're getting their picture taken because it's just so slow, you just have to kind of relax."
She sa
id childre
n are some of her favorite subjects to photograph.
Evoke Tintype owner Maureen Feeley said children are some of her favorite subjects to photograph: "I just feel like their personality comes through, because you can't really make them pose a certain way."
– Evoke Tintype/Courtesy Photo
"I just feel like their personality comes through, because you can't really make them pose a certain way," Feeley explained, recalling one small child who refused to smile for the camera, instead folding his arms defiantly. 
"His photo kind of looks like the spirit of Tony Soprano," Caramello cracked.
Unlike other photographs, tintypes show a reversed image — in other words, how you would see yourself in the mirror.
"So people look more familiar to themselves, and so many people have said, 'This is the best picture I've seen of myself,'" Feeley said.
Tintype photographs are also near-grainless, Caramello said.
"So when you see a tintype image, it's probably the clearest image that you've ever seen in a photograph in general, never mind a photograph of yourself," he said. "There isn't a digital camera made today — or an analog camera, for that matter — that can capture images with such sharpness and detail as tintypes."
Making a memory
Evoke advertises as an add-on experience for Airbnb guests staying in Boston, which has allowed Feeley and Caramello to meet travelers from all over the world. They said they also get a lot of couples looking for a unique date night activity.
"When you come to the studio, you can actually join us in the dark room," Caramello said. "You can see the plate being made; you can see the plate being developed."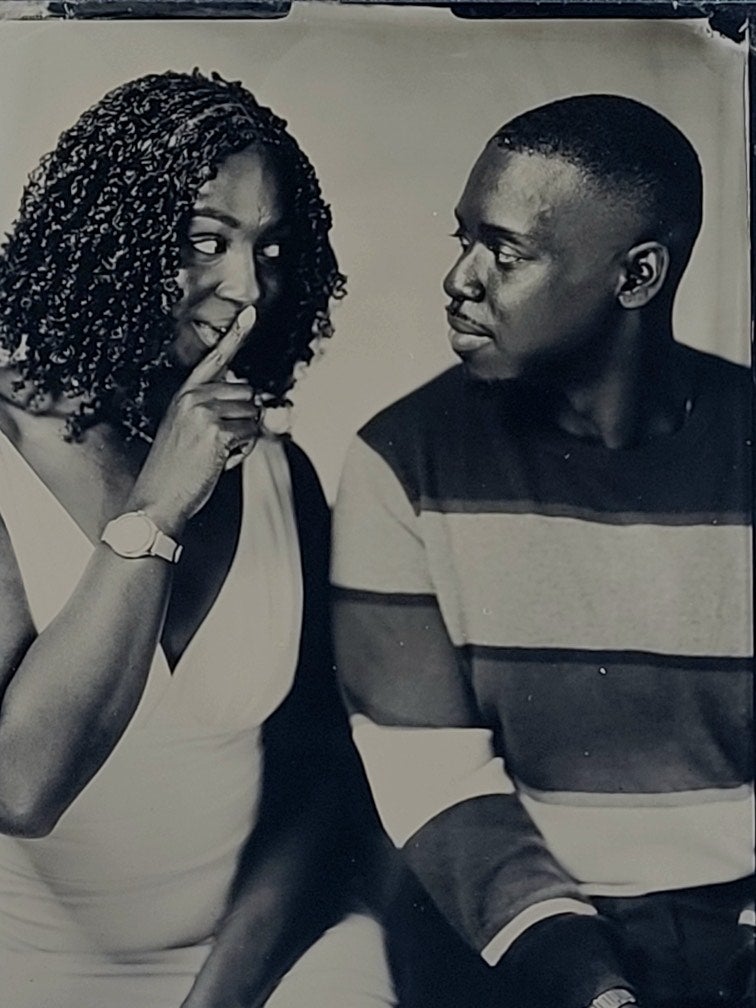 Evoke has gained momentum in the months since its launch, helped along by word-of-mouth advertising. The business has also participated in the Boston Open Market in Copley Square and led workshops and demonstrations at the deCordova Sculpture Park and Museum and Hunt's Photo.
"One of the things that I find that's kind of unique is how many young people are interested in the process," Caramello said. "I figured we would get older folks kind of longing for the past, but there's so many young folks that have probably never even seen an analog camera, let alone experienced using one."
A musician before he got into sales and marketing, Caramello said he enjoys being back in an artistic field.
Feeley, meanwhile, said her favorite part of the process is knowing "we're making a memory that's going to last forever for the person."
"These pictures they'll have hopefully for generations to be passed down in their family," she said. "And that's really special."