It's no secret—freshly prepared roast beef sandwiches are pretty much an essential part of our culture here in Boston. Whether you get yours smeared with barbecue sauce or topped off with garlic aioli and shallots, there's ample variety to go around. We're thinking about tender, thinly sliced meat, layered onto a Kaiser roll and coming with any kind of toppings, from American cheese to horseradish. When you're looking for a hearty and robust sandwich, Massachusetts has it down.
We asked readers for their favorite place to get a roast beef sandwich in Massachusetts, and over 500 people responded. The spot that came in first place was Nick's Famous Roast Beef in Beverly, earning 7% of the vote. In spite of the fact that the co-owners of Nick's ran into legal trouble in 2015, readers appear to be fans of the food. Unsurprisingly, readers' top picks were locations along the North Shore.
"It's almost become a cult following, for people who love coming to the North Shore for sandwiches," Nick's Famous Roast Beef's manager Costas Koudanis said. "It never sort of left this area. It's sort of great. We have our own little slice of heaven, we call it. It's a wild thing that's happened."
Below, you'll find a ranking of the top places to get a roast beef sandwich, along with a map that will help you find a restaurant near you. Scroll down to see the 106 destinations that readers recommended, and pick up your own lunch to go.
Readers share the best places to get a roast beef sandwich in Massachusetts:
A 🥪 means that this spot can be found on along the North Shore.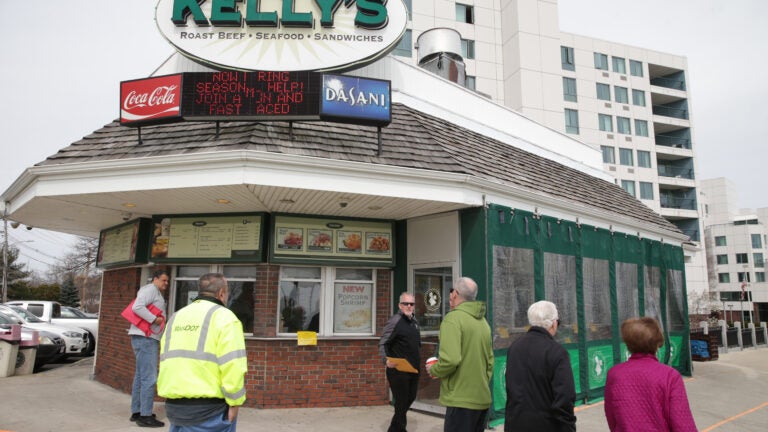 This Wakefield restaurant officially opened in 1989, and they've been delivering on satisfying meals ever since. The hot roast beef sandwich comes in three different sizes, with the Super arriving on an onion roll. Manager Pam Iatrou said that the meat, served medium rare, is juicy and full of flavor, while the barbecue sauce gives it a kick. Toppings range from horseradish, to lettuce, tomatoes, and onion. Andrew G. from Quincy said, "Everything about the roast beef sandwich is perfect. Rare, paper thin, BBQ sauce, cheese, the buttered and grilled bun. Everything." Billy's earned 4% of the vote.
1291 Main St., Wakefield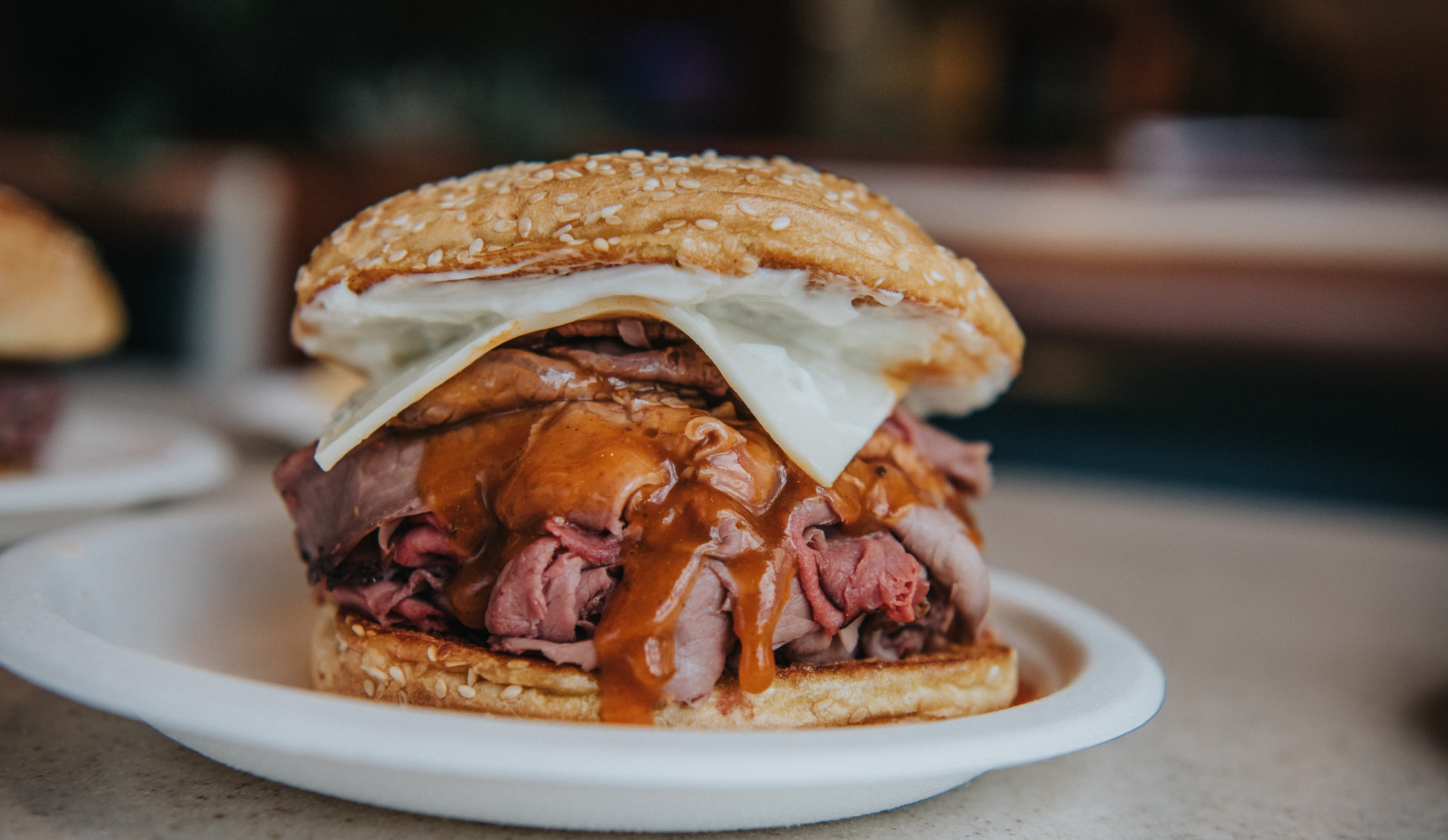 Kelly's, which has been running for over 70 years, began as a hot dog shack on Revere Beach and today operates four locations in Massachusetts, along with spots in New Hampshire and Florida. The chain will be opening its seventh full sized location in Dedham. Their "three-way" comes with American cheese, mayonnaise, and James River BBQ sauce. The meat is slow roasted and has been aged for at least 30 days, according to the Revere location's general manager Frank Carolan, and they get their bread from Piantedosi. Reader Clare O. from North Attleboro said, "The roast beef always has a bit of pink, is perfectly thinly sliced, and has little to no fat on it. Bun is buttered and toasted, and the BBQ sauce is unique. I've been eating there for 50 years—no place does it better!" Kelly's took away 5.6% of the vote.
Multiple locations, original location in Revere
What makes the sandwiches at Jamie's Roast Beef so special is that owner Matt Marquis puts a "high end" twist on each one, with variations that feature Boursin cheese, house pickles, or even Cajun aioli. The spot, which earned 5.8% of the vote, was opened during COVID and features creative dishes. If you look for their basic North Shore Beef, it can be ordered on a plain roll, a seeded bun, or an onion roll. The roast beef itself uses 19 spices, is vacuum sealed, put in a bath, and cooked medium rare, with a texture that melts in your mouth. Reader Corey F. from Attleboro said, "Every sandwich is crafted like a piece of art. Most places around just slop it together, but Jamie's gives you the visual too. The quality of food is also impeccable, not just the roast beef. Everything! The fried chicken sandwich is also a favorite for me. Everything is handcrafted."
44 Margin St., Peabody
North Andover's Harrison's has been doling out classic roast beef sandwiches since 1984. From this traditional spot, you'll get a satisfying meal that can come with toppings such as mustard, extra sauce, and hot pepper relish. A side of pizza rolls, pickles, or coleslaw completes the experience, and you can wash it down with a bottled soda. Owner Mike McMains told us that the sandwiches are made with pride and love, adding, "Of course you cook it correctly. It's an all day affair."
Reader Cameron B. from Tewksbury said, "Their barbecue sauce is tangy and a little spicy, and they are very generous with the amount that they put on the sandwich. The beef is also excellent, and it's very lean. The only problem with this delightful restaurant is that the sandwich is gone too fast, and it makes me want another one, but I don't want to go out again to get another one. Another good thing about Harrison's is their wonderful fries. They're hard, they're thick, and they're served piping hot, just like their beef. If you're in North Andover, stop by Harrison's. If you're not in North Andover, go to North Andover and stop by Harrison's." The restaurant took 6.4% of the vote.
80 Chickering Rd., North Andover
This restaurant in Beverly is a place that strives for consistency, according to manager Costas Koudanis, who added that the spot has been around since 1975. Nick's keeps its menu simple, featuring roast beef sandwiches as their core item. The fresh meat is prepared early in the morning, before the eatery opens, and the beef is cut, cooked, and seasoned. "Everybody has their own taste. For the most part, we don't like to do it overly rare," Koudanis said. "On a typical day, it's a medium beef that's very tender, very juicy. It's coming straight out of the oven, so it doesn't have time to be dry." Their most popular sandwich, the "three-way," uses the traditional James River BBQ sauce, which is mild and tangy, with just enough kick.
Reader Donna T. from Maine said that for the best roast beef sandwich, "It's definitely Nick's! The beef is thin and tender. It's piled high. The BBQ sauce is just spicy enough. The onion rings are the best, and the shakes are thick and stand up to a straw. We started going in the late 70s when we were students nearby. Now, we even make the trip from Maine. The only beef sandwich that can come close is Chicago's Italian beef. Can't get anything like them here in Maine. I [am] tempted to open a franchise with Nick!"
139 Dodge St., Beverly
Honorable Mentions 🏅
Georgio's Roast Beef & Pizza: At this no-frills Brockton spot, order the super beef served on a grilled onion roll. Get a side of shoe string fries and mozzarella sticks to go with it. 1041 Pearl St., Brockton
Readers say: "The roast beef is cooked perfectly and is served on an onion roll with cheese and BBQ sauce. The sandwich is overflowing with roast beef. I love the sandwiches there and am completely full." -Joe S., Canton
Tessi's Pizza & Roast Beef: In Tewksbury, you can request a roast beef sandwich with fixings, like banana peppers, black olives, bacon, or extra provolone. 910 Andover St., Tewksbury
Readers say: "The beef is the perfect pink red, smothered in sauce, toasted bun, with enough mayo and cheese to bring it all together." -Griffin A.
Bill & Bob's Roast Beef: Fans of Bill & Bob's know that the locations in Salem, Woburn, and Peabody serve up great roast beef, to be enjoyed with a thick shake in flavors like mocha and raspberry. Multiple locations
Readers say: "The amount of beef, the sauce, the fries, the setting. It's all perfect." -MK, Boston
Here's the complete list of reader recommended roast beef sandwich spots:
Sign up for The Dish
Stay up to date on the latest food news from Boston.com.